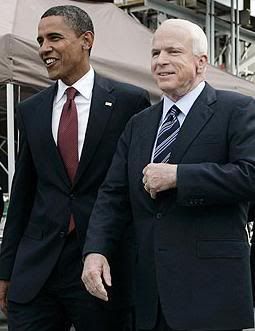 Well well, so he DID show up after all.   Once again, full disclosure, I am an Obama supporter who has donated to his campaign.  I am… or rather WAS… a pretty big admirer of McCain's Luke Skywalker campaign in 2000 right before Rove crushed any sense of idealism I had, leaving only an empty husk of bitter cynicism.  Okay, it's Friday night… so what else to do except watch the FIRST MOTHERFUCKIN' PRESIDENTIAL DEBATE?!  I just came back from Mexico, so no live-blogging for this one.  But, as is tradition, I have crafted a drinking game, just for you assholes.  The last one (for Obama-Clinton) was way too elaborate.  So I'll just stick to some basics.  As usual, I invite my fellow bloggers to freely edit the rules as they see fit, and make comments regarding the actual debate, in the uh, comment below.
See the jump for the rules, now it's time to ditch you losers and play some Warhammer Online!  Remember, swearing is required, real talk about the issues is discouraged, and keep it orky.
General Rules
If at ANY time REFORM, CHANGE, EXPERIENCE, JUDGMENT, or BIPARTISANSHIP is mentioned.  (NOTE: this includes if the candidate takes a shot at the other along those same lines). DRINK
Any website pimping also gets a DRINK .  Bonus DRINK if they spell the site name.
Any that whole Mortgage buyout thing gets mentioned, DRINK .  EXPERTS ONLY: Extra DRINK if they go back and forth for longer than the moderator wants.
Any vice-presidential shots gets a DRINK.
Any anecdotes used involving "real people" mentioned BY NAME also gets you a DRINK
Artful Dodges also gets a DRINK .
McCain Specific
If he bitches about the media: DRINK
He gets one freebie POW mention, everything thereafter you have to DRINK.
If he uses the words LIBERAL, MEDIA, ELITE, SOCIALISM, or HOITY TOITY… DRINK
Obama Specific
Any attempts to enter oratory mode… DRINK
Any dodges on a religious question gets a DRINK. Bonus DRINK if McCain IMMEDIATELY takes a considerably stronger position.
If he gets too wonkish, DRINK
Shots towards either the Iraq War or McCain's economic weakness gets a DRINK
Last 5 posts by Derrick