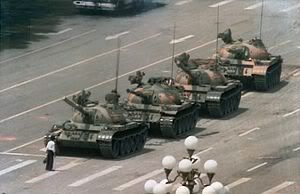 Today is the anniversary of when the Chinese government, faced with mass protests regarding rampant corruption (which still isn't fixed by the way… if anything it's gotten worse) as well as additional economic and democratic freedoms, decided the best response was to bring in the tanks and kick some ass.  
I can't help but view this anniversary though the lens of the recent diaster in Sichuan Province.  The Chinese Government's response to the recent earthquakes has been surprisingly open and competent.  I honestly thought they were going to blacklist media and produce a few puff pieces.  But no, we got images of Wen Jiabao crying and TONS of images of the profound grief of the parents.  Not to mention tons of stories about the incredible culture of corruption that resides in the PRC Government's Beaucracy From Hell.  But let's not forget:
When Tibetans protested, the PRC brought out the troops and kicked some ass.  And then blamed a 72 year-old holy man.  And then blamed the international media.  DAMN THAT DALAI LLAMA, MAKING THAT SOLDIER CURBSTOMP PEASANTS.
When an enormous bunch of students and labor leaders protested, China brought out the tanks and partied like they just killed all the pigeons in Liberty City.  And to this day, they refuse to own up to it, which to me is the real crime.  They refuse to even discuss it in schools, despite it being the catalyst for starting up the economic engine that is China today.  They're ridiculous douches about it, forcing Google to block it in their web engine.  And then they have the balls to bitch about Japan and the whitewashing of its own atrocities.  And to make it more confusing, China is more than willing to have information available about the Cultural Revolution.  If you had to whitewash something, I think a series of diasterous policies which showcased the utter incompetence of the government as well as the dangers of totalitarian idealogy would be the one.  Not the time when you opened fire on your own citizens because they erected a Statue of Liberty ripoff in the middle of Tiananmen Square. 
Which is why, in the middle of all the good signs coming out of China right now;  the mass volunteering of Chinese youth (generally considering to be a bunch of spoiled yuppie pricks), a willingness to open up to the international media, asking for help from the Japanese… I remain skeptical. 
Show the Tank Man picture to an average student in China today, and they'll have no idea what it is.  Then again, show that to an average American student, and they'll say, "Oh yeah, that's that Tank guy in Vietnam or some shit." 
China wants to consider itself a big-time player.  It's already learned that being one means you have a spotlight on you at all times.  And all the attention given to you will be 90% negative.  And that means you can't… CAN'T do stupid shit all the time.  Like arresting citizens for bullshit reasons, or violently breaking protests. 
Chinese police dragged away more than 100 parents Tuesday while they were protesting the deaths of their children in poorly constructed schools that collapsed in last month's earthquake.
The parents, many holding pictures of their dead children, were pulled down the street away from a courthouse in Dujiangyan, a resort city northeast of the Sichuan provincial capital of Chengdu.
There are a whole lot of protests going on from grieving parents, regarding the obvious corruption that lead to the "Tofu Buildings" that passed for schools in the area.   More importantly, there is a widespread feeling, justified, that the "delay" is due to typical corruption trying to mitigate damages.  I'm inclined to believe that corruption will play a role in the investigation.  A part of me thinks that the PRC already knows how deep the rabbit hole goes.  And to use a scientific term: It goes really fucking deep.   So any delay is not due to any investigations, but rather trying to figure out how high of an official to execute.  They better get on the stick, don't want this issue tainting those Olympics.
Anyway, yay to the Tank Man, who stood up for rights that we regularly abuse everyday.
Last 5 posts by Derrick