I'm gathering a few odds and ends I've written at other places through the years, as recent events at one of the sites bookmarked on the left have taught me that a website is an ephemeral thing. Some of them I'm reposting here. This is a piece on Sergio Leone's Once Upon A Time In The West, a movie I love for many reasons. What I wrote about this film in November 2006 isn't particularly insightful, certainly nothing you wouldn't find better written by a third-tier rotten tomatoes critic.
There are many appreciations of Once Upon A Time In The West. This one is mine.
The three movies that killed the western as an institution, because no more could be said, are Once Upon A Time In The West, The Wild Bunch, and Blazing Saddles.
The wife and I watched Once Upon A Time last night, so I'm moved to put up a big slobbering love-post to it. You owe it to yourself to see this movie, or to see it again if you've seen it previously. If you've only watched the bastardized two hour tv edit, you owe it to yourself to see the widescreen "special collector's edition," which restores the film to its original almost three hour glory. Once Upon A Time was a commercial failure because the studio chopped it into incoherence. In its restored condition, it's a triumph.
The last of Sergio Leone's spaghetti westerns, this is the best movie Leone ever made, and possibly the finest western ever shot.
Without spoiling anything that won't become apparent in the first forty minutes, the movie is the story of a revenge calculated over twenty years. Charles Bronson of all people plays the nameless hero (known only as "Harmonica") this time, and in his limited way proves to be as effective for the part as the prettier, more talented Clint Eastwood, with whom Leone worked on previous westerns, could have been. Bronson's savagery is in fact better suited than anything Eastwood could have brought to this role, as a man so obsessed with revenge that he won't allow others to kill his enemy.
Henry Fonda went on record to say that Once Upon A Time In The West was his favorite movie. Fonda's part, as the evil Frank, was a revelation in casting against type. Frank's cruelty and brutality rank him with Darth Vader among screen villains, yet Fonda plays the part with a humanity and, dare I say it, vulnerability, that make it almost impossible not to empathize with the villain on multiple levels.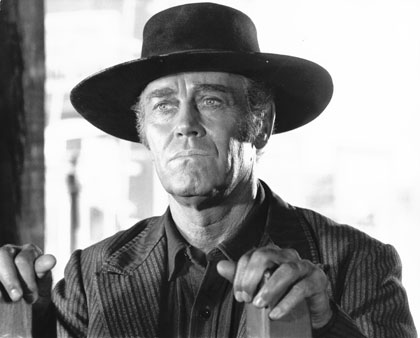 This revenge play is set against the backdrop of a railroad moving from the east to the Pacific, and the death of the west. Frank, a literal troubleshooter for the railroad, recognizes that he's killing the freedom that makes him possible and gives him his power. Yet the sweep of civilization isn't presented as a one-dimensional good or evil, just as change:
Frank: Morton once told me I could never be like him. Now I understand why. Wouldn't have bothered him, knowing you were around somewhere alive.
Harmonica: So, you found out you're not a businessman after all.
Frank: Just a man.
Harmonica: We're an ancient race. Other Mortons will be along, and they'll kill it off.
Frank: The future don't matter to us.


As a bonus, the film features perhaps the best of composer Ennio Morricone's scores. Without a hook as memorable as The Mission or The Good, The Bad, And The Ugly, the score Morricone wrote for Once Upon A Time In The West is still grander than either.
Do yourself a favor. See this movie.
Last 5 posts by Patrick Non-White